Explore In Bloom This Week
It's hard to believe that it is already August. I'm learning a lot about how to handle a large, maturing perennial garden in oppressive heat. Mostly it is just making stuff up as I go along, and questioning everything.
In my first two years with this garden I had to focus on getting new plants started and tending young plants through their first encounters with competitive weeds, baking hot Summer days, wind and rain storms, less than perfect soil and all kinds of garden fuss. This year almost all of the flowers in the garden are 2 and 3 year old perennials. The weaklings have died off and the strong ones are deeply rooted into the soil. They can hold their own against a few weeds and they don't need me to bring them a drink of water every time the soil gets dry.
I did need to step in this past week and help manage the explosion of weeds that's been trying to take over the garden paths. Those were chopped off at soil level with a weed whacker and if we ever get a break from this heat I'll eventually get around to giving the paths a thorough hoeing to remove the last of the weed remains.
Many of the the perennials are starting to go a bit crispy in the hot and dry conditions. But since these are drought tolerant species, and strong/mature plants, I'm holding off on providing supplemental water or trimming off brown dried flower heads. I keep looking at the wild plants in the hills - and think about how capable those plants are at enduring harsh growing conditions. Could it be that a touch of "The Summer Crispies" is actually an important part of a drought tolerant perennial's life cycle? I don't know, and I'm going to find out.
Letting nature take the lead means that my garden doesn't look exactly like something out of one of the gardening magazines. That's not bothering me, though. There is still a lot of lovely color in the garden - even if a close up look at the flowers shows frayed petals and some crunchy leaves. The current hot and dry spell is encouraging fast ripening of seed heads and that should have them ready to self sow when we get the first of the Autumn rains. If I was supporting the perennial garden with a lot of watering now I think that it's very possible that I could prolong flowering at the expense of seed ripening. That could be nice for appearances but not necessarily good for the long term health and vitality of my plant colonies.
I'm also not deadheading spent flowers. They are being left to produce seed to fill in garden gaps (and suppress weed seedlings). In time the stems will get dry and frayed, seed pods will open and scatter seeds, and the dry remains of this year's flowering season will rake out easily from the fresh fall basal vegetative growth.
So what am I doing out in the garden if I'm not weeding, watering, pruning or fussing with plants? Enjoying scenes like this, of course!
If you look closely at the 30 second mark you can see the tiniest little bee-type thing zoom around the skipper butterfly. I always marvel at how the big garden is so full of small animal worlds - and I think that working with nature's plant growing cycles instead of doing things the garden magazine way will ensure that I have the time to find these amazing little nature scenes right here in my own flower garden.
We've gone from hot and steamy weather to hot and dry. Most of the cooler seasons plants like poppies, dianthus and columbines have gone dormant (or at least close to it) and will spend the rest of the sweltering weather looking dead and crispy. That's OK - they will continue to work on developing their root systems and they'll bounce back in the Fall.
This is the time of the year when tough, drought tolerant perennials are a gardener's best friend. Echinacea (coneflowers) may very well be the toughest of all.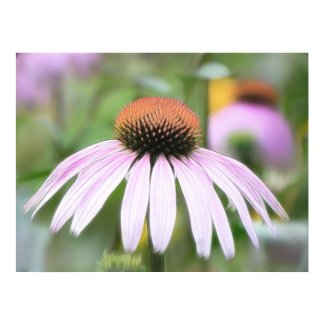 A mature stand of echinacea is a beautiful sight and it's worth a little bit of fuss to get them established in your garden. They aren't the fastest growing perennial, but they are tenacious, steady growers. Don't be surprised if first year seedlings look quite ratty during peak summer heat. And don't give up on them the following March when it starts to seem that they're never going to sprout fresh growth.
Coneflowers are smart plants and they have a tremendous will to live. They also have foliage that deer, goats and cows find quite tasty. It's should not be surprising that they have evolved to have growth cycles designed to help them survive predation by hungry herbivores. Root growth seems to be a priority for these plants and they can dig through clay soil and around rocks to access moisture and nutrients from deep below the soil surface. Young plants and early spring growth is tender, so echinacea accepts the company of weeds and other plants that can help shelter fresh tasty shoots and leaves.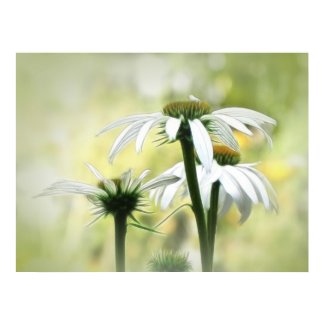 By its third year of growth, echinacea has a strong mass of roots and can put its energy into strong top growth. It starts later in the Spring than many other plants and when it finally sprouts up there are plenty of other sweet green morsels in the garden to distract browsers and grazers. Echinacea then goes into quite rapid growth and produces lots of leaves on tough, woody stems, and finally flowers with bright blooms. Its seed producing parts are safely tucked in the prickly cone in the center of the flower.
How well adapted is echinacea? Well, this week I fed a big armful of cut stems and flowers to our cow and goats. They were very popular snacks and the animals quickly plucked all of the green leaves and the flower petals off. They nibbled on the stems and flower cones a little but ended up leaving most of them uneaten in the yard. (Keep in mind that these animals will happily eat bramble vines, multiflora rose stems and thorny honey locust trees so they don't shy away from tough to eat plants.)
I really wasn't expecting Connie and the goats to leave any echinacea leftovers. How amazing that such a beautiful flowering perennial can also be so incredibly tough! It's encouraging to know that no matter what the weather may throw at us, I've got at least one plant species in the garden that is not in the least bit concerned. I'd still like the heat wave to break soon - but I guess I really don't need to worry about my garden quite so much. Mother Nature has created plants that can handle this sort of thing just fine.
The weather this year is continuing to make gardening difficult. It's also doing its best to make everything else difficult too! I've spent the past hour or so getting ready to start writing this update, then seeing the radar change and hearing thunder and racing to power off the computer to protect it from power surges.
We are currently in a weather pattern that is giving us brutally hot temperatures. Even early mornings and early evening work periods are super hot and humid. Everything takes longer to do than normal and leaves us hot, sweaty and tired out afterwards. Extra care must be taken to ensure that we don't heat stress our dogs, goats or cow.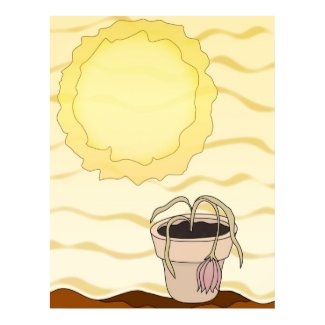 During the highest heat of the day, as we try to settle into indoor work for a while, the radar suddenly shows fierce pop-up thunderstorms even though the forecast a few hours earlier looked like we might get a day off from the rains. Lately the storms have been accompanied by tremendous amounts of lightning. The electricity flickers on and off and we need to make sure that any electrical equipment in the house that can be damaged by power surges is shut off.
The pop up thunder storms don't necessarily mean that we'll get rain. In areas like the Appalachian Ohio hill region, summer weather systems are strongly affected by terrain, forest coverage, ground temperatures, and ground moisture levels. These factors can vary a lot over surprisingly small distances. Things like which hillsides get how much direct sunshine at which times of day make a big difference. So does which direction the winds were blowing and did they blow over rich, moisture retentive soil or over fast drying clay, rocks and coal. It's very common to have drenching rains in one area and a quarter mile away there isn't a single rain drop.
We also don't have any large bodies of water in region and that means that weather conditions change very quickly. We don't get the temperature stabilizing/balancing effects that you'd get from having a Great Lake or ocean nearby.
This year has given us particularly volatile weather so far. Right now we've got extreme heat, much higher rain levels than normal, and much stronger, frequent, and violent thunderstorms. I really don't know how you get work done when the weather is this crazy. Between fixing weather damaged stuff, racing to get essential chores done before heat/lightning/flooding rains or whatever interrupts your work, dealing with plant stress and disease, and shutting off the computer every time the lightning starts up again there just isn't much time to get caught up on stuff - let alone get ahead on a few things.
The forecast for the next 10 days looks like more brutally hot weather except for the times that it's pouring down rain. Oh dear - the weeds are going to love this.