Explore In Bloom This Week
Rudbeckias (Black Eyed Susans) are one of my favorite summer garden flowers. They are perennials that will bloom their first year from a spring sowing. They are quite hardy and the seedlings can handle surprise late spring frosts. The plants don't live very long, often dying back after their second bloom year - but if you let some flowers set seed they will happily make more plants.
The seedlings are easy to recognize after you've seen them a few times. In a mature perennial garden rudbeckias require very little care. I prune back the ones that lean into my tending paths and occasionally move some seedlings to new spots in the garden, or sprinkle seeds from a dried seed head into an empty garden spot.
In this video you can see a section of my garden where I let the rudbeckias self sow. This part of my garden has lousy soil and it's tough to get plants to grow there. The rudbeckias don't mind, though. They are really tough plants and don't fuss - they just grow and flower and look gorgeous.
Everybody at our house likes rudbeckias. Even Connie the cow appreciates a nice bouquet once in a while!
Most of our regular readers know all about our Pretty World store, where all of the great garden art from In Bloom This Week can be found on a variety of beautiful gift products. Clicking on the photos that accompany each article always takes you the matching poster in our store.
There's a lot more than posters at Pretty World, and from time to time I'll be posting product showcase articles so that you can see some of my favorite products. Here is a small sample of some of our newest gifts.
In our Zen Rock Garden design, a graceful tower of smooth river rocks is illuminated by the gentle morning light. The colors and the balance of the stones seems so peaceful and calming to me.
Shown here are the iPad case, letterhead paper, postage, and the large sized business card. The business card features the lightened version of the photo on one side and the full color image on the other. Wouldn't these be perfect for a spa owner that wants to present their business in an elegant and sophisticated manner?
On Tuesday I wrote an article about our breadseed poppies, and of course the bloom photo and the seed pods photo are both in the Pretty World store. Here are some of the products you'll find in our Poppy Bloom - Papaver Somniferum design line.
Our greeting cards are available in two sizes, and you can choose versions with or without the special personalization area on the front. There is no extra charge for the custom versions and it's easy to make a one of a kind card that is sure to be treasured. Bags are also easy to customize and you can choose from 6 different styles.
Mugs can be purchased with or without matching sandstone finish coasters (with non-scratch cork backing). You can customize your mugs size, shape, style and color, and even add your own text by by clicking the orange "Customize It!" button.
Summer is a great time for get togethers and In Bloom This Week artwork is also available on fully customizable party invitations. The floral invitations feature a light version of the design on the side with the writing, and a full color version on the reverse side. Here's a look at a few of them:
Enjoy your visit to the Pretty World store and be sure to return often so you can see all of our latest designs and products!
Yesterday we looked at the breadseed poppies (Papaver somniferum) as they neared the end of their bloom season. Other annual poppies (Papaver rhoeas species) are also finishing up their flower show.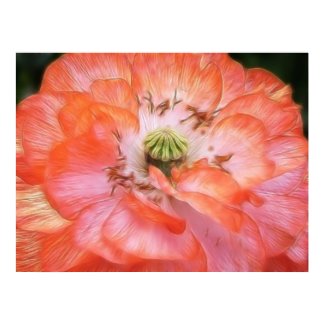 Papaver rhoeas varieties are often called corn poppies, Shirley poppies or Flanders poppies. If you shop around the various seed catalogs you can almost certainly find a variety (or several) that will catch your eye and suit your particular gardening style. And if you can't decide, I recommend the nicely priced, super-sized poppy seed packs from Swallowtail Seeds.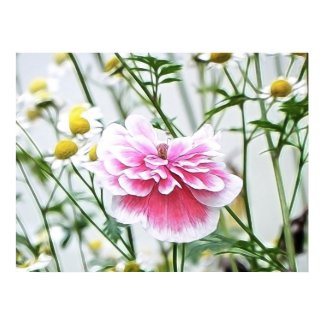 Papaver rhoeas poppies form smaller seed pods than the ones I showed you in the breadseed poppy patch but seed harvesting principles are still the same. Always wait for the seed heads to ripen and dry fully. Always look for the stem attachment to turn brown and crispy. It can be hard to be that patient but it's worth the wait so that you harvest fully developed seeds that will give you good germination and healthy, strong seedlings.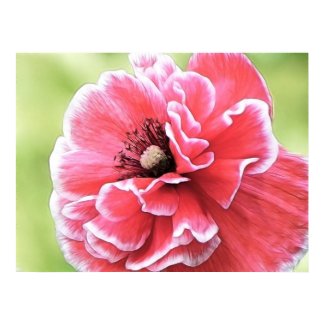 It's kind of sad to see poppy season coming to an end. Even though there are so many beautiful summer flowers starting to bloom, there is something in poppy colors that set them apart from other plant species in the garden. Their reds and pinks are very distinctive shades - rather warm looking and lacking in the bluer undertones that you find in most other spring blooming pink flowers. The Papaver rhoeas poppies have very wiry stems that sway in even the gentlest breezes and their delicate petals glow when backlit by the Spring sunshine.
There are a few straggles still, so it isn't the end of poppy bloom yet. But the end is in sight and I'm going to miss them when they finish their flowering season.