Explore In Bloom This Week
Four or five years ago I traded some seeds with an Ohio woman name Sonja. We didn't know each other but we were both members of an online discussion forum that included gardening topics and a barter board where people would often share seeds.
I mailed her an assortment of seeds and she did the same, and we each included a few extra surprises. One of the packets she sent was labeled "Gloriosa Daisy - My Favorite".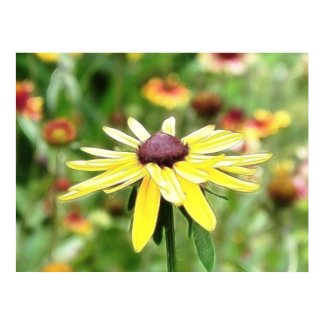 I planted the seeds and later that summer the plant opened its first bloom. There is was - a rather average looking, plain yellow Black Eyed Susan (Latin name: Rudbeckia, also known as Glorisosa Daisies).  It was a pretty enough flower but seemed kind plain and common, not exactly the flower that I'd expect to be labeled "My Favorite".
Three weeks later that first bloom was still standing tall in the garden. Still simple looking. Still plain yellow. And still with petals as vivid, bright and perfect as the day it first opened. Then we got an early frost and I didn't give the plant much though until the following June.
In its second year of blooming, Gloriosa Daisy - Sonja's Favorite was absolutely covered with flowers. Still simple looking. Still plain yellow. Dozens and dozens and even more dozens of long lasting, cheery looking bright yellow daisy-shaped blooms. The kind of plant where you can cut a big bouquet of flowers and still have plenty left to enjoy in the garden. I'm not sure it's my very favorite summer flower, but it is certainly among my favorites.
There's a moral to this story. If someone sends you a seed packet and it's labeled "My Favorite", give it a fair trail in your garden and find out what it was that made it so special to the giver.
The columbines (Latin name: Aquilegia) finished blooming several weeks ago and have been busy making seeds. Here's how the plants looked in May - covered with flowers in all bloom stages from bud, to flower, to unripened seed pods.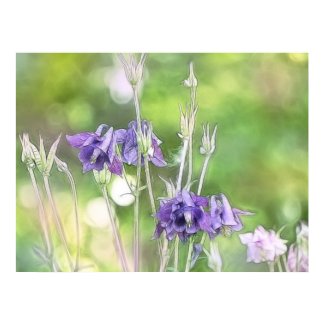 Columbines will self sow freely once established and there is often a lot of diversity among their offspring. It's quite normal to find that you've got a particularly stunning plant in your garden - the kind where you just have to save seeds so you can sow them and find out what their seed babies will look like.
My garden has a mix of columbines. I have my "starter set" grown from seeds purchased from places like Thompson and Morgan Seeds and Swallowtail Seeds. They have a number of beautiful varieties and I was so pleased with my columbines that I just had to expand my garden's genetic diversity further. That's when I went shopping for seeds at Touchwood Aquilegias and picked out a colorful mix of their very fanciest columbines.
Now I'm starting the process of encouraging my most favorite colors and styles of columbines and gradually weeding out ones that I like a little less. I clip the ripe seed heads off my common types and toss their seeds around the edge of the yard. With the fancy ones, I harvest seeds and then scatter them wherever there's a bit of empty space in the main garden beds. Then I wait until next spring to see how things look, and repeat the process year after year. I could fuss over it more than that but this kind of casual, cottage garden approach is easy and ensures that each year's bloom season will come with a few surprises.
Here's what columbine seed pods look like when they are ready to harvest. The multi-chambered pod and attached stem are dry and crispy. The pod itself is starting to split in places to make openings big enough for the seeds to fall out. The plant holds the pods with the open part facing upwards, and Mother Nature takes care of the rest. A lot of seeds get self sown by the gusty winds that form on the leading edge of storm systems. The winds tip the seeds from the pods and the rains water them into the soil.
This is what you should see when seeds are ripe and ready to harvest. Notice how easily they tip right out of the pod. They should be shiny, black and firm and you shouldn't need to dig them out of the pod. If the pod is sticky and greenish, or the seeds are pale colored and don't want to come out of the seed pod, you should wait another week or so and check again.
Here's a second look at how easy it is to harvest fully ripened seeds. They just flow right out of the seed pod with nothing more than a jiggle or a gentle tap.
Columbines seeds are a good garden investment. Some of the fancy types are rather pricey by the packet, but once they bloom and set seed you shouldn't need to buy seeds again - unless you need collect all of the colors and petal types. I checked one of my fancy new seed-grown Touchwood columbine plants as I was writing this article. The first year plant has over 25 seed ripe seed pods on it, and the single pod I checked had 95 ripe seeds in it.
Even though my garden beds are getting quite crowded I'm still plucking columbine seed pods and scattering the seeds all over. They are not pushy plants and if they can find a comfy little space between other perennials they's settle in and grow. Many of them will be ready to flower next spring, though a few slower siblings might wait until the following spring to bloom.
We are continuing with record levels of precipitation this year and had another inch of rain today. Since last Fall it has been rare for us to have three dry days in a row. The current pattern is heavy rains every other day, mixed with periods of daily heavy rains.
It's nice not having to water, but the plants really need some sunshine and a break from soggy growing conditions. Plants aren't comfortable with constant soggy ground any more than people would be comfortable having to wear soggy shoes and socks every day. There is going to be a lot of catch up work to do once we finally get a break from the rains and have a few good drying days.
But it's Sunday today and instead of worrying about the weather is was nice to go out and stroll through the garden, looking at the pretty aspects and for the moment ignoring the weeds and early signs of plant stress and disease. The raindrops on the various flowers were acting like miniature garden gazing balls
.
The katydid nymphs were on the daylilies again today. This one figured out how to use his daylily petal as a giant umbrella.
Sections of the garden paths are starting to get quite weedy. It's really not practical to try to hoe weeds out of the damp soil - especially when there's another heavy rain coming in a few hours later. I guess this is going to be a good year for the perennials to root in deeply, and unfortunately it's going to be a tough year for weeding.
This baby bunny likes having some weeds to hide in. Rabbit mothers often tuck their young in a safe corner of the garden. The babies might look like they've been abandoned but Mom Bunny will return to check as needed. In order to keep from attracting predators, Mrs. Bunny will usually stay away from her little ones during the daytime and tend to them more frequently after nightfall.
Our rainy Sunday turned out to be a good time to do some computer work and try out some art techniques I've been thinking about lately. Today I settled into an afternoon playing with my favorite pattern making software, Genetica - by Spiral Graphics.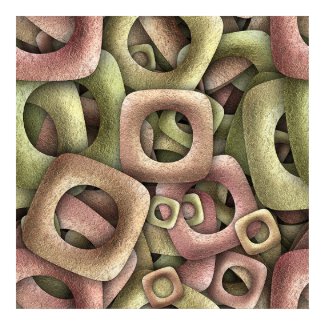 I call this design Metallic Cereal because it looks a little like something you might find in your breakfast bowl.
Of course, I had to make a pattern from some of my garden flowers too! I call this one Echinaceas Everywhere and it is the first entry in the new Flowers Everywhere section of my Pretty World store.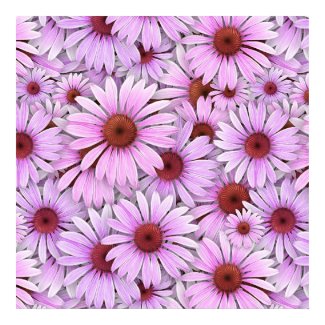 You can see a lot more of my art patterns in the Just Plain Cool Patterns section at Pretty World. Can you tell which patterns include elements from the garden? Here's a hint: there are more garden based patterns than synthetic patterns in that section!